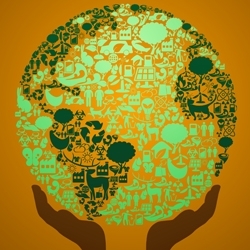 Managing Global Risk and Reputation to Your Company's Advantage Seminar
A Multi-Disciplinary, Interactive Seminar for Senior Executives
10 - 11 December, 2013
The Conference Board Conference Center
New York, NY
10 - 11 December, 2013
Program Description
Join us for a two-day interactive seminar for cross-functional and business executives charged with managing the most challenging risks and crises global organizations face today -- from supply chain and corruption to cybercrime and culture failure – and learn how to implement a more holistic strategic approach to global risk and reputation management based on the original strategic framework created by Andrea Bonime-Blanc, CEO of GEC Risk Advisory, who is the Seminar's Program Director.
This interactive seminar equips functional executives who deal with risk and crisis management—from legal, compliance, audit, risk, corporate responsibility, ethics, human resources, investor relations and others — as well as business executives and board members with a new inter-disciplinary strategic approach to proactively planning for and responding to key global risks. Including expert updates on several cutting edge risks and facilitated risk, crisis and opportunity identification exercises, attendees will engage in discussions and simulations for working in cross-functional teams to find company-wide solutions.
Seminar participants will leave equipped with a constructive new approach to addressing and resolving major risks and identifying hidden opportunities that come from more holistic and strategic risk management. Such an approach to risk and crisis management not only protects but also enhances corporate reputation for the greater benefit of all stakeholders.
Please join us for this unique learning and networking experience.
Six Highlights
1. Develop strategic approach to risk and crisis management
2. Learn interdisciplinary problem-solving
3. Solve issues through interactive workshops
4. Develop holistic approach to governance issues
5. Learn about cutting edge global risks
6. Align governance to business strategy
Who Should Attend
Chief Ethics & Compliance Officers
Chief Legal Officers & General Counsels
Chief Audit officers
Chief Risk Officers
Chief Corporate Responsibility & Sustainability Officers
Head of Human Resources
Head of Investor Relations
Chief Privacy Officers
Chief Security Officers
Head of Government Affairs & External Relations
Head of PR & Communications
Business Executives such as Chief Operating Officers, Chief Administrative Officers, Business Unit Heads
Board Directors especially Audit, Risk, Governance, Compliance & Corporate Responsibility Chairs and Members
Letter to Prospective Attendees
Too often, chief ethics, compliance, audit, sustainability, governance, corporate responsibility, risk and similarly situated officers are concerned that business executives do not fully appreciate the work that they do within their companies. But all too often as well, functional executives do not optimize the cross-functional resolution of enterprise risks in a business-savvy way or make a compelling enough case for the value that their teams add to the business. As a result, ethics, compliance, regulatory and sustainability risk management is frequently not well integrated with, or perceived to be of value to, business strategy.
While there is truth to both sides of this argument, both functional and business leaders bear responsibility for this disconnect. The bottom line is that those who stand to benefit from a company's success (shareholders and other stakeholders) do not receive full value and benefit when such a "silo" approach to risk and crisis management takes place. Not to mention that this disconnected approach also exposes the company to more serious potentially negative reputational and financial consequences. The time has come for a more holistic, strategic approach to global risk and reputation management. It is time for the governance side of the house to speak the language of business and for the business side of the house to help integrate integrity into business process and outcome.
Managing Global Risk and Reputation to Your Company's Advantage: A Multi-Disciplinary, Interactive Seminar for Senior Executives has been developed to bring multi-disciplinary executives together to explore the latest, cutting edge developments in global risk, with a strong emphasis on reputation risk issues confronting global actors today, and to participate in a series of facilitated discussions and simulations designed to foster risk brainstorming and proactive crisis responsiveness. Participants will leave with a new set of skills that will help them and their organizations not only with strategic risk and reputation management brainstorming and crisis management but also with a way to ascertain possible hidden opportunities for value added to their business and stakeholders.
Tuesday, December 10, 2013
REGISTRATION AND CONTINENTAL BREAKFAST 8–9 AM
A 9–10:30 AM
Introduction: Program Overview and Purpose
Andrea Bonime-Blanc, Chief Executive Officer, GEC Risk Advisory LLC and Seminar Program Director, The Conference Board
Exercise #1: Team Formations and Risk Brainstorming
B 10:45–11:45 AM
Global Risk #1: Cyber-Risk
Carmen Oveissi Field, Principal, Deloitte Advisory Services LLP
LUNCHEON NOON–1:30 PM
View Documentary over Lunch
C 1:30–3 PM
Global Risk #2: Culture/Leadership Risk
Exercise #2: Interactive Workshop
Jacqueline E. Brevard, Retired Chief Ethics and Compliance Officer, Merck & Co., Inc.
Judy Young, Executive Director, The Institute for Ethical Leadership, Rutgers University School of Business
D 3:15–4:15 PM
Global Risk #3: Climate Risk
Jeffrey B. Gracer, Principal, Sive Paget & Riesel P.C.
E 4:30–5:30 PM
Exercise #3: Crisis Scenario Simulation
NETWORKING RECEPTION 5–6 PM
Wednesday, December 11, 2013
CONTINENTAL BREAKFAST 8–9 AM
F 9–10 AM
Global Risk #4: Corruption Risk
Brigida Benitez, Partner, Steptoe & Johnson LLP
G 10:15–11 AM
Exercise #4: Crisis Scenario Simulation
H 11:15 AM–12:15 PM
Global Risk #5: Human Rights and Supply Chain Risk
Professor S. Prakash Sethi, University Distinguished Professor of Management, Baruch College Zicklin School of Business
LUNCHEON AND FREE DISCUSSION 12:15–1 PM
I 1–2 PM
Exercise #5: Risk/Opportunity Identification Exercise
J 2:15–3 PM
Putting it All Together: A Holistic, Strategic Approach to Global Risk and Reputation Management
Andrea Bonime-Blanc, Seminar Program Director, The Conference Board
For speaking and sponsorship opportunities, please contact Hannah Sohn at hannah.sohn@conferenceboard.org.