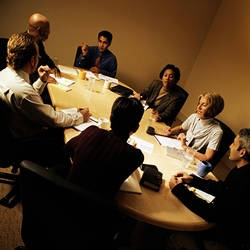 Communicating Employee Benefits, Prevention and Wellness Workshops
Formulating Winning Initiatives that Deliver Results
03 - 04 December, 2013
The Conference Board Conference Center
New York, NY
03 December, 2013 — Workshop I: Strategic Employee Benefits Communication: Critical Achieving Improved Awareness and Outcomes
(Click to display details below)

04 December, 2013 — Workshop II: Web 2.0 Employee Benefit Communication: Using Technology to Usher in Big Changes in Benefits
(Details are being shown below)

04 December, 2013
Follow this conference on Twitter: #tcbcomms | Follow The Conference Board: @conferenceboar
Day Two Workshop: Web 2.0 Employee Benefit Communication: Using Technology to Usher in Big Changes in Benefits
Containing costs, compliance, and managing today's complex benefit administration programs is a painstaking process that demands a proactive employee benefits communication strategy. The goal of employee-benefits communication should be improved employee relations, and effective communication begins with listening. Employers must know what their employees value most and how they feel about potential changes to the benefits plan. Please join us as these important workshops.
The rise of social technologies over the last few years has affected how we reach employees in the workplace. New and improved employee engagement channels offer benefits communicators new opportunities and challenges. During this workshop, you will gain new insights into the latest Web 2.0 tools and learn how to:
Use Technology to Share Workplace Knowledge
Improve Employee Engagement for Better Outcomes
Influence Attitudes and Behaviors
Adapt Web 2.0 to Your Corporate Culture
Wednesday, December 4, 2013
REGISTRATION AND CONTINENTAL BREAKFAST 8–9 AM
A 9:15–10 AM
How Leading Companies are using Digital Communication to Engage Employees in HR Programs
David Pitre, Vice President, Consulting Services, Davis & Company
B 10–10:45 AM
Influencing Attitudes and Behaviors
Ally Bunin, Assistant Vice President, Internal Communications, North Shore-LIJ Health System
NETWORKING REFRESHMENT BREAK 10:45–11AM
C 11:15 AM–NOON
Improving Employee Engagement for Better Outcomes
NETWORKING LUNCHEON 12:15–1:15 PM
D 1:15–2:15 PM
Interactive Workshop: Think Differently about Benefits/HR Communication
NETWORKING REFRESHMENT BREAK 2:15–2:30 PM
E 2:30–3:15 PM
Social Networks and Benefits Communication
Scott Turner, Creative Director, Mercer
F 3:15–4 PM
Using Technology to Share Workplace Knowledge
Katy Maclaga, Manager, Employee Benefits Communications, The Home Depot
For speaking and sponsorship opportunities, please contact Meg Gottemoeller at meg.gottemoeller@conferenceboard.org.