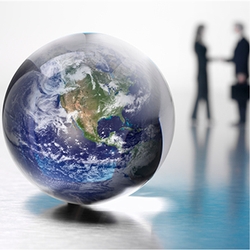 Global Business Services Conference
Moving from Process Efficiency to Enterprise Business Value
13 - 14 November, 2013
The Allerton Hotel Chicago
Chicago, IL
12 November, 2013 — Pre-Conference Seminar: Navigating People, Culture and Change to Achieve Shared Services Excellence
(Details are being shown below)

13 - 14 November, 2013 — Global Business Services Conference
(Click to display details below)

12 November, 2013
REGISTRATION AND CONTINENTAL BREAKFAST 8–9 AM
WORKSHOP A 9 AM–NOON
Change Management and Communication: The Undeniable Necessary of Operational Excellence
Communication and change management are critical components of all success¬ful shared services implementations and crucial throughout every phase. Effec¬tive communication and change management must be embedded throughout the enterprise so that everyone can answer the question, why are we pursuing shared services and what is in it for me. Many companies fail to realize the level of effort needed to effectively develop and manage ongoing communication and change management programs. In this workshop, explore proven strategies, techniques and best practices for developing, managing and optimizing change management and communication programs. Included in our discussion:
Identifying/targeting key stakeholders to cascade your message through the enterprise
Effectively linking shared services strategy to the overall enterprise mission
Creating a "transparent" shared services organization
Daniel Melchior, Vice President - Accounting Services, Luxottica Retail North America, Author, Shared Services: A Manager's Journey
Robert Yeldell, Senior Director – Finance, NBC Universal
WORKSHOP B 1–4 PM
Moving the Middle: How to Achieve Improved Performance for the Entire Organization
The collective individual performance of employees within almost all organizations plots neatly into a bell curve. Historically, managers and their human resources partners have focused most of their efforts on the outliers, working diligently to solve issues with the lowest performers while nurturing/leveraging the abilities of the highest performers. Although management of both extremes is important, transformational talent improvement requires a systematic, relentless emphasis on improving 'the middle'. Given the emphasis in shared services on service levels, efficiency and scalability, there is nowhere else within a company where this need is greater.
Explore talent strategies, tools, and case examples spanning three critical milestones along the shared service journey toward optimal value:
Implementation: Incorporate historic talent evaluations into the new requirements of shared service, either captive or outsourced delivery model
Stabilization/Incremental Improvement: Enhance the performance of talent across the organization to meet and exceed business expectations
Growth and Innovation: Build new capabilities and skills to drive step-change value enhancement for the business
Braxton Sisco, Principal, A.T. Kearney, Inc.
Neeti Bhardwaj, Manager, A.T. Kearney, Inc.
For speaking and sponsorship opportunities, please contact Mary Beth Reidy at marybeth.reidy@conferenceboard.org.