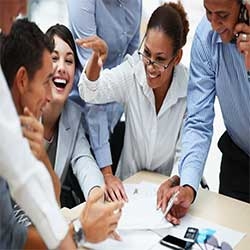 Change Management Conference
Transformational Change: Powering Peak Performance through Strategy, Structure and Culture
27 - 28 June, 2013
W Hotel New York
New York, NY
27 - 28 June, 2013 — Change Management Conference
(Click to display details below)

26 June, 2013 — Pre-Conference Seminar: Your Brain on Change
(Details are being shown below)

26 June, 2013
REGISTRATION AND CONTINENTAL BREAKFAST 8–9 AM
SEMINAR 9 AM–5 PM
A 9 AM–NOON
Why is Change So Hard: A Neuroscience Perspective
Understanding the latest brain research and applying core insights from neuroscience can generate big improvements in human performance, leader development and driving change. In this interactive session, we will explore the intersection of neuroscience and leadership – NeuroLeadership. This is not simply a science lecture, consider it a learning lab to take current neuroscience findings and use it to change the way you work with change.
During this session, you will:
Examine the brain's limitations through your own experiences
Discover the social nature of the brain and its impact on performance
Learn how to better manage your own and other's workplace "triggers"
By learning about your brain's primary functions and "needs," you will be better equipped to work with it – rather than against it. The payoff: enhanced decision-making, less stress, more creativity, higher engagement, improved performance, increased motivation, better collaboration.
This seminar will be led by Paul McGinniss, Director of Training and Delivery for the NeuroLeadership Group and 2012 NLG Trainer of the Year. Paul brings more than 25 years of corporate experience to this work.
NETWORKING LUNCHEON NOON–1 PM
B 1–5 PM
Change the Way You Think About Meetings
Transforming meetings from time-wasting to time-valued and from energy sapping to energy-producing requires a different approach to how we design, lead, and participate in meetings. Meetings are the crucible where organizational change takes place. It is the experience of these meetings that determines whether people leave with apathy or genuine commitment. In this session we will challenge long standing assumptions about meeting ownership and participation and apply the principles of change management and insights from neuroscience to:
Transform meetings into productive work experiences
Create shared ownership and accountability for business results
Decrease levels of resistance and increase participation and engagement
This seminar will be led by Dick Axelrod, author of the award-winning Terms of Engagement: New Ways of Leading and Changing Organizations. He brings more than thirty five years of consulting and teaching experience to this work.