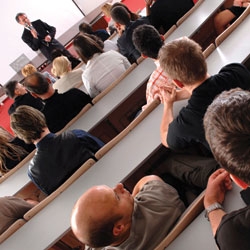 Onboarding Leadership Conference
Facilitating Transition, Driving Performance and Engagement
05 - 06 December, 2012
InterContinental New York Barclay
New York, NY
05 - 06 December, 2012 — Onboarding Leadership Conference
(Click to display details below)

04 December, 2012 — Pre-Conference Seminar: Onboarding Architecture
(Details are being shown below)

04 December, 2012
The Conference Board Conference Center, 845 Third Avenue, New York, NY 10022
REGISTRATION AND CONTINENTAL BREAKFAST 8–8:45 AM
A 8:45 AM–NOON
Four Pillars of Onboarding Excellence
You will be lead through the assessment of critical components necessary for designing and launching a systemic framework for onboarding excellence and improved new hire experience. Emphasis will be placed on the four key pillars for successful onboarding:
Interpersonal Network Development – Growing critical networks
Early Career Support – Setting the stage for personal progress
Strategy Immersion and Direction – Company-wide and team alignment
Cultural Mastery – Orient and coach for a thriving corporate culture
The session will provide tools which can be implemented as soon as you get back to the office to start assessing the cultural attributes that will lead to a more successful integration of new hires.
Mark Stein, Senior Vice President, Kaiser Associates
Lilith Christiansen, Vice President, Kaiser Associates
Jocelyn Cox, Onboarding Program Manager, Chevron Corporation
LUNCHEON NOON–1 PM
B 1–5 PM
Choosing the Right Inputs for Onboarding Success
This hands-on workshop will focus on specific case examples from Google including extensive time for interactivity. In addition, it will offer participants tools to design onboarding inputs within their own organizations. We will cover best onboarding practices including how to maximize the four Cs of compliance, clarification, culture and connection during new employee onboarding. Participants will also be given techniques to help them work with the momentum of new hires rather than against it in order to create positive adjustment trajectories.
Moderator
Dr. Talya N. Bauer, Cameron Professor of Management, School of Business Administration,
Portland State University
Panelists
Jennifer Kurkoski, Director People & Innovation Lab (PiLab), Google, Inc.
William Shepherd, Ph.D., Senior Vice President, Human Resources, Director, Recruitment and Development, Huntington Banchares Incorporated
For speaking and sponsorship opportunities, please contact Meg Gottemoeller at meg.gottemoeller@conferenceboard.org.