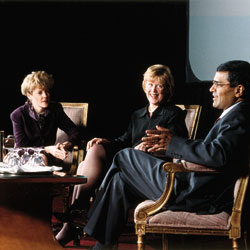 Directors' Roundtable
14 - 15 June, 2012
Hosted by Cleary Gottlieb Steen & Hamilton LLP
New York, NY
14 - 15 June, 2012 — Directors' Roundtable
(Details are being shown below)

14 - 15 June, 2012
Join our intensive roundtables with your fellow directors to address critical governance challenges
Key Business Oversight Responsibilities of the Board – strategy, risk appetite/risk management and CEO performance/ succession planning
Shareholder Engagement – best practices for managing corporate/investor relationships
Board Leadership and Development – how to recruit, develop, run an effective board & committees, how to structure key board roles such as lead director or independent chair
Executive Compensation – latest on executive compensation design and lessons from "Say on Pay"
Global Challenges – learn about doing business across the globe and how governance trends outside the US affect governance in the US
Who should attend
Seasoned directors currently sitting on boards that are seeking a chance to interact with their peers about the issues that affect their boards most. Join us to hear the latest developments from experts in corporate governance and leave with practical knowledge to implement into your board duties.
---
What makes The Conference Board Governance Center Directors' Roundtable unique
Intimate "roundtable" format discussion setting allows for true peer-to-peer interaction
Sessions are designed for Directors to exchange insights and share best practices with each other
Builds upon unique enterprise-wide content from The Conference Board, including leading edge economic insights
Hosted by Cleary Gottlieb Steen & Hamilton
450 Park Avenue
Room 4/5
New York, NY 10022
About The Conference Board Governance Center
The Conference Board Governance Center brings together a distinguished group of senior corporate executives from leading world-class companies and influential institutional investors in a non-adversarial setting to address the most pressing and difficult issues facing governance professionals and boards.