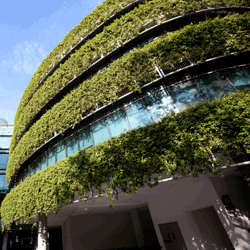 Citizenship and Sustainability Conference
The Management Challenge of Ethics, Citizenship, and Sustainability: A New Business Model
20 - 21 June, 2012
The Fairfax at Embassy Row
Washington D.C.
20 - 21 June, 2012 — Citizenship and Sustainability Conference
(Details are being shown below)

19 June, 2012 — Pre-Conference Seminar: Sustainability Reporting: Transparency and Risk
(Click to display details below)

20 - 21 June, 2012
#tcbccs
Managing partnerships in the future will require new skills and techniques. New ESG linkages will forge unique relationships between finance, transportation and manufacturing functions. Multi-dimensional roles, integrity, intellectual property and due diligence will circumscribe the strategic value of ethical social responsibility. This conference will look at such issues in the developed and emerging world markets with an eye to helpful and disruptive technologies and social forces and the impact on the business model.
A pre-conference (click here for details), pragmatic seminar on sustainability reporting, will discuss integrated reporting, risks and transparency and highlight best practices from leadership companies. Additionally a post-conference workshop (click here for details) will devote 1/2 day to evaluation and metrics for ethics, sustainability and compliance management.
Benefits of attending
Understand challenges of corporate social responsibility and ethics
Learn from best practices and current research
Understanding risk, challenges and opportunities
Examine changing global economies
Inculcating CSR and ethics into the business strategy
Who should attend
Executives in charge of corporate citizenship, community involvement, corporate social responsibility and sustainability, business ethics & compliance, corporate communications, public affairs and public relations, foundations and contributions managers and other professionals responsible for integrating community and business management strategies across the global enterprise.
Wednesday, June 20, 2012
REGISTRATION AND CONTINENTAL BREAKFAST 8–8:45 AM
WELCOME AND INTRODUCTION 8:45–9 AM
Tom Davis, Conference Program Director, The Conference Board
A 9–10 AM
Opening Keynote
Charles N. Whitaker, Human Resources and Compliance, Altria Client Services
NETWORKING REFRESHMENT BREAK 10–10:15 AM
B 10:15–11:45 AM
A Spectrum of NGO Partnerships
Moderator
Jonathan Wootliff, Reputation Partners
Panelists
Greenpeace
Conservation International
Human Rights Watch
Transparency International
Sierra Club
Friends of the Earth
C 11:45 AM–12:45 PM
The Business and Ethics Nexus—Why "Who You Are" is as Essential as "What You Do"
Jeff Link, Vice President, Compliance, AFLAC
D 12:45–2 PM
Luncheon Session: Managing Global Ethical Business Behavior
Joe Cachey, Senior Executive in Residence, Western Union Social Ventures
NETWORKING REFRESHMENT BREAK 2–2:30 PM
E1 2:30–4 PM
Best CSR Practices – Human Rights, Biodiversity Conservation, Supply Chain
Moderator
Marc Major, Co-Founder, Cleargreen Advisors
Panelists
Heather Wright, Director, Corporate Responsibility, PwC
Robert Johnson, President, Wildlife Habitat Council
Zoe McMahon, Director Social & Environmental Sustainability and Compliance, HP
E2 2:30–4 PM
Best Practices – Motivating Consumer Behavior Change
Moderator
Ian Yolles, CSO, Recyclebank
Panelists
Michael P. Washburn, Director of Sustainability, Nestlé Waters North America
Lewis Fix, Vice President, Brand Management, Domtar
Cindy Drucker, Director-Global Sustainability, SC Johnson & Sons, Inc.
F 4–5 PM
Closing Day One Keynote
David Stryker, General Counsel and Chief Compliance Officer, BASF Corporation
NETWORKING COCKTAIL RECEPTION 5–6 PM
Thursday, June 21, 2012
CONTINENTAL BREAKFAST 7–8 AM
G 8–9 AM
Morning Keynote: Leveraging Corporate Responsibility
CB Bhattacharya, Dean of International Relations and E.ON Chair Professor in Corporate Responsibility, European School of Management and Technology, Berlin
H 9–10:15 AM
The CSR Opportunity
Moderator
Craig Bida, Executive Vice President Cause Branding and Nonprofit Marketing, Cone Communications
Panelists
Angela Buonocore, Senior Vice President, Xylem
Mark Newton, Vice President for CSR, Timberland
Renee Acosta, President and Chief Executive Officer, Global Impact
NETWORKING REFRESHMENT BREAK 10:15–10:30 AM
I 10:30–11:45 AM
Nuclear Energy Industry and CSR
Moderator
Scott Peterson, Senior Vice President, Communications NEI
Panelists
Tim Juliani, Director of Corporate Engagement, Center for Climate and Energy Solutions
Laura Clise, Director Sustainable Development, Areva
Gary Merasty, Vice President Corporate Social Responsbility, Cameco Corp.
David Brown, Senior Vice President Federal Government Affairs, Exelon
J 11:45 AM–12:45 PM
Maximizing Green Returns for Socially Responsible Investing
Moderator
Daniel Vermeer, Executive Director, Center for Energy, Development and the Global Environment, Duke University
Panelists
Andrew Aulisi, Credit Suisse
Mathew Arnold, Managing Director, Office of Environmental Affairs, JPMorgan Chase
Bennett Freeman, Calvert Investments
K 12:45–1 PM
Closing Remarks
To learn more about the pre- and post- conference events, click on the links below.