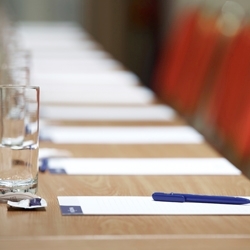 Succession Management Conference
Raising the Stakes – Anticipating and Removing Barriers to Building High Quality Leadership Pipeline
18 - 19 October, 2011
New York Marriott Downtown
New York, NY
18 - 19 October, 2011 — Succession Management Conference
(Details are being shown below)

17 October, 2011 — Pre-Conference Seminar: Identifying, Engaging, Developing, Retaining, and Deploying Your High Potential Leaders
(Click to display details below)

18 - 19 October, 2011
Recent research indicates that the most "successful" companies have a robust and mature Succession Management System in place. 75% of companies say they understand the importance of Succession Management in ensuring their viability in this VUCA world; however, only l/3 of these companies are actually committing time and resources to creating a set of processes, practices and structures for identifying and developing quality talent that is linked to current and future strategy. This year's conference will focus on looking at the critical issues and barriers organizations face in achieving their Succession Management goals, what processes, procedures, practices they are using to address these issues, how they are measuring progress, and sharing outcomes that are moving the organization to best in class.
Benefits of attending
Stay current in what organizations are doing to break through barriers to best in class succession management
Learn the importance of "Strategy" in planning and executing succession management that works
Gain knowledge in how to identify "true" high potentials
Create new approaches to increasing success of high potentials transitioning to new positions
Discover ways to increase the depth and diversity of your succession pipeline
Understand what innovations are taking place in "Rising Economies"

Analytics Today and Tomorrow – Key Metrics That Will Enable Succession Management to Have an Impact in the Future
Who should attend
Senior vice presidents, vice presidents and directors responsible for Succession Management in their organizations with the majority coming from Human Resources, Leadership Development, Talent and Global Talent Management, Training and Development, Employee Development, and Diversity.
Tuesday, October 18, 2011
REGISTRATION AND CONTINENTAL BREAKFAST 8–8:45 AM
WELCOME, INTRODUCTIONS, GOAL SETTING 8:45–9:15 AM
Rene Carew, Conference Program Director, The Conference Board
A 9:15–10:15 AM
Keynote Session: A CEO's Perspective on Succession Management in Today's VUCA World
Walt Havenstein, Chief Executive Officer, Science Applications International Corporation (SAIC)
NETWORKING REFRESHMENT BREAK 10:15–10:30 AM
CONCURRENT SESSION B1 10:30–11:45 AM
Identifying and Developing Your High Potential Leaders
Don Thompson, Director, Talent Management, T.D. Williamson, Inc.
Maria Del Busto, Vice President and Chief HR Officer, Royal Caribbean Cruises Ltd.
Sonia Diaz–Del Oro, Director of Global Learning and Development, Royal Caribbean Cruises Ltd.
Phyllis Wright, Vice President Talent Organization Development, Baylor Health Care System
CONCURRENT SESSION B2 10:30–11:45 AM
Aligning Succession Management with Talent Strategy
Tanya Kiefer, Ph.D., Director, Talent Management, Bristol-Myers Squibb
C 11:45 AM–1 PM
Luncheon Industry Round Tables – What Are You Measuring?
D 1–2 PM
Your Succession Management Strategy – Make It a Priority!
Stephen Cerrone, Executive Vice President Human Resources, Sara Lee Corporation
Dave Heine, Ph.D., Executive Vice President, PDI Ninth House
NETWORKING REFRESHMENT BREAK 2–2:15 PM
CONCURRENT SESSION E1 2:15–3:30 PM
Increasing the Depth and Diversity of your Succession Pipeline
Nisha Advani, Ph.D., MPS, Talent and Organization Development, Genentech
Carleen Haas, Vice President Talent Strategies, Humana
Matthew Tabor, Director, Corporate Talent Strategy, Cisco Systems
CONCURRENT SESSION E2 2:15–3:30 PM
Going Overboard on On-Boarding: Why Companies Need to Think More Broadly About Accelerating Transitions
Michael Watkins, Chairman, Genesis Advisers, Author of Your Next Move and The First 90 Days
NETWORKING REFRESHMENT BREAK 3:30–4 PM
CONCURRENT SESSION F1 4–5:15 PM
Adding Succession Management Value to the Board
Moderator
Edward Ferris, Partner, Hedge Fund Solutions, LLC
Amy Borrus, Deputy Director, Coucil for Institutional Investors
Ronald J. Naples, Director, Chairman of Compensation Committee and Member of Audit Committee, PH Glatfelter Co., Ex-Chairman and CEO, Quaker Chemical Corp.
Jason D. Schloetzer, Assistant Professor, McDonough School of Business, Georgetown University, and Co-author, The Conference Board CEO Succession Report
Steven Woods, former Executive Vice President, Human Resources and Administration, Selective Insurance Group, Inc.
CONCURRENT SESSION F2 4–5:15 PM
Government's Challenges and Approaches to Filling the Leadership Pipeline
Roger A. Lewis, Sites Chief Performance Officer, Office of Defense, Programs, National Nuclear Security Administration, U.S. Department of Energy
Victoria Frank, Chief Learning Officer, National Nuclear Security Administration
CONCURRENT SESSION F3 4–5:15 PM
Succession Management in Entrepreneurial Companies – Frameworks, Tools and Outcomes
Brandyn Payne, Senior Director, Colleague Development, Healthways
NETWORKING COCKTAIL RECEPTION 5:15–6:15 PM
Wednesday, October 19, 2011
CONTINENTAL BREAKFAST 7:30–8:30 AM
G 8:30–9:30 AM
The Role of Analytics in Improving the Quality and Confidence in Succession Planning and Decision Making
Allan H. Church, Ph.D., Vice President, Global Talent Development, PepsiCo
Corley Farber, Senior Manager, Talent Intelligence, PepsiCo
NETWORKING REFRESHMENT BREAK 9:30–9:45 AM
CONCURRENT SESSION H1 9:45–11 AM
Succession Management in The Rising Economies
Roland B. Smith, Ph.D., Senior Faculty and Lead Researcher, Global Institute for Talent Sustainability (GIFTS), Center for Creative Leadership
Prasad Kaipa, H. Smith Richardson Visiting Fellow, Center for Creative Leadership, Visiting Professor Indian School of Business
CONCURRENT SESSION H2 9:45–11 AM
The Role of Assessment Centers in Identifying Your "True" High Potentials
Angela Gamble-Link, Ph.D., Global Talent Management Director, Schneider Electric
NETWORKING REFRESHMENT BREAK 11–11:15 AM
I 11:15 AM–12:15 PM
Input and Exchange of Ideas
ADJOURNMENT 12:15 PM
For speaking and sponsorship opportunities, please contact Meg Gottemoeller at meg.gottemoller@conferenceboard.org.