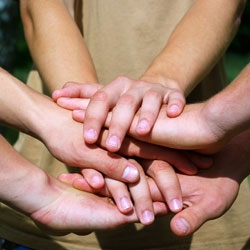 Corporate Community Involvement Conference
Making a Positive Impact
28 - 29 July, 2011
InterContinental San Francisco
San Francisco, CA
28 - 29 July, 2011 — Corporate Community Involvement Conference
(Details are being shown below)

27 July, 2011 — Pre-Conference Seminar: Designing and Managing a Corporate Contributions Program
(Click to display details below)

28 - 29 July, 2011
Follow us on Twitter: #tcbcci
Organized by The Conference Board and The Public Affairs Council, The Corporate Community Involvement Conference is the premier conference for corporate grantmakers and related area executives and focuses on delivering insights and tools to enhance their power within their organization and more effectively manage the corporate philanthropy function in light of the current business and social environment.
Using case studies and dialogue attendees examine how CCI fulfills a variety of missions including reputational enhancement, increased employee engagement and achieving strategic business objectives. All sessions are designed to be interactive and emphasize actionable steps attendees can use in their business as well as how to measure program effectiveness. Three expanded afternoon workshop sessions will allow attendees to explore health care/wellness, education and global programs with time for participants to both get more in-depth understanding of the issue along with individual problem solving. Other topics include: Investing in the Arts, Using Social Media, Building Successful Collaborations, Leveraging Government Relations, Skills Based Volunteering.
Benefits of attending
Reinventing service and volunteerism
Making a difference in education
Global philanthropy
Social media and communication strategies
Measuring community impact

Who should attend
Corporate contributions directors
Community relations managers
Corporate citizenship executives
Employee volunteer coordinators
Corporate foundation directors
Sustainability executives
Stakeholder alliance managers
Public affairs directors
Corporate communications managers
Wednesday, July 27, 2011
Pre-Conference Seminar: Designing and Managing a Corporate Contributions Program
Thursday, July 28, 2011
REGISTRATION AND CONTINENTAL BREAKFAST 7:45–8:30 AM
WELCOME AND INTRODUCTIONS 8:30–8:45 AM
OPENING KEYNOTE | 8:30am–9:30am
How Can Business Make a More Positive Impact?
Kaiser Permanente: Raymond J. Baxter, Senior Vice President
GENERAL SESSION | 9:30am–10:30am
Reimagining Service
Gap Inc.: Bobbi Silten, Chief Foundation Officer
San Francisco Education Fund: Lisa Spinali, Executive Director
State of California: Karen Baker, Secretary of Service and Volunteering
Jeff Hoffman & Associates: Jeff Hoffman, President
CONCURRENT SESSIONS | 11:00am–12:15pm
SESSION A: Investing in the Arts
Adobe: Michelle Mann, Director, Corporate Social Responsibility
Americans for the Arts: Emily Peck, Director of Private Sector Initiatives
Applied Materials: Mark Walker, Managing Director, Global Community Affairs
SESSION B: Communication Strategies in a Social Media World
Dell: Michele Glaze, Regional Giving Manager, Americas
Public Affairs Council: Rikki Amos, Associate Director
SESSION C: Win-Win: Creating Opportunities for the Disabled
The Conference Board: Mary Wright, Program Director
Bank of America: David A. Smith, Vice President of Consumer and Business Banking Staffing
LUNCHEON | 12:15pm–1:45pm
Roundtable Discussions
These roundtables allow you to choose a table based on a topic so you can share experiences and ideas with other professionals.
AFTERNOON WORKSHOPS | 2:00pm–3:30pm
SESSION D: Health and Wellness
Allison & Partners: Larry Krutchik, Senior Vice President
Aramark: Bev Dribin, Senior Vice President, Community Relations
Kaiser Foundation Health Plan: Michelle Mancuso, MPH, Senior Business Consultant, Healthy Workforce, National Human Resources
SESSION E: Education
Pacific Gas and Electric Company: Mario Rendon, Interim Director, Workforce Sustainability and Education Partnership Policy
Exxon Mobil: Truman Bell, Senior Program Officer, Community Investments and Corporate Citizenship
The Conference Board: Mary Wright, Program Director
SESSION F: Global Philanthropy
Kraft Foods: Nicole Robinson, Director, Corporate Community Involvement
Mission Measurement, LLC: Cheryl Davenport, Manager
GENERAL SESSION | 3:45pm – 5:00pm
Measuring the Returns of Community Investment
Sponsorium: Seth Leeds, Senior Director, Business Development
Sponsorium: Paul Pednault, Founder and President
NETWORKING RECEPTION | 5:00pm – 6:30pm
Friday, July 29, 2011
BREAKFAST SESSION | 7:30am–8:45am
Next Generation Community Involvement: Closing the Gap Between Vision and Execution
Committee Encouraging Corporate Philanthropy: Margaret M. Coady, Director
GENERAL SESSION | 8:45am–10:00am
Breaking the Mold
Acumen Fund: Brad Presner
The Boston Beer Company: Katie Piepiora, Supervisor of Corporate Communications and External Relations
Cause Consulting: Mark Feldman, Principal
Walmart Foundation: Julie Gehrki, Senior Director
eBay Foundation: Lauren Moore, President
CONCURRENT SESSIONS | 10:00am–11:15am
SESSION G: Aligning Government Affairs and Community Involvement
Alcoa: Sally Lambert, Director, Communications, Government Affairs
Sanofi-aventis: John Spinnato, Vice President, North America Corporate Social Responsibility
Public Affairs Council: Rikki Amos, Associate Director
FedEx Services: Mary Harvey Gurley, Manager Global Engagement and Events
SESSION H: What About Sustainability?
Ford Motor Company Communications: Debra Hotaling, Western Region Leader
McKesson: Carrie Varoquiers, Vice President, Corporate Citizenship and President, McKesson Foundation
VOX Global: Ann Davison, Senior Vice President, Senior Partner
Ernst & Young LLP: Beth Rosemond, PhD, Assistant Director, Corporate Responsibility
SESSION I: Streamlining Grants Management
Pitney Bowes: Anna Ibragimova, Manager, Foundation Finance and Operations
E-Philanthropy Solutions: Kieran Murray, President
CLOSING GENERAL SESSION | 11:30am–12:30pm
Ask the Experts
Chevron: Matt Lonner, Manager, Global Partnerships & Programs
HP: Caroline Barlerin, Director, Communications and Global Community Involvement
JK Group: Nita Kirby, Director of Client Relations
McKesson Corporation: Carrie Varoquiers, Vice President, Corporate Citizenship; President, McKesson Foundation
Pacific Gas & Electric: Ezra Garrett, Director, Community Relations; Executive Director, PG&E Corporation Foundation