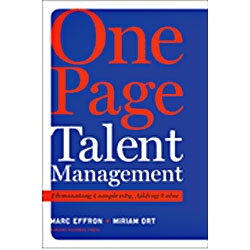 Meet the Authors: Workshops for Leadership, Talent and Human Resource Professionals
One Page Talent Management
07 April, 2011
The Conference Board Conference Center
New York, NY
07 April, 2011 — Workshop I: One Page Talent Management (OPTM) Workshop
(Details are being shown below)

Scheduled Speakers 07 April, 2011

Marc Effron is President of the Talent Strategy Group and Founder of the New Talent Management Network.
Mr. Effron has worked for, and consulted to, some of the world ' s largest and most successful companies. He applies a simplicity–based approach to building talent which emphasizes transparency and managerial accountability. Mr. Effron's prior experience includes serving as Vice President, Talent Management for Avon Products, Leadership Consulting Practice Head for Hewitt Associates and Senior Vice President, Leadership Development for Bank of America.
His new book is One Page Talent Management: Eliminating Complexity, Adding Value from Harvard Business Press. Advance praise for the book includes Marshall Goldsmith calling it " the best book ever written on this topic. " Mr. Effron has co–authored two other leadership books and has written chapters in nine management and leadership books.
In 2007, he founded the New Talent Management Network (http://www.newtmn.com), a non–profit networking and research organization focused on increasing the effectiveness of talent management practitioners. It is the world 's largest talent management organization, with more than 1,600 members. Mr. Effron can be reached at marc@talentstrategygroup.com. More information is available at www.talentstrategygroup.com.

Miriam Ort has held leadership positions in talent management and human resources in the HR organizations of Fortune 500 companies. She is a frequent contributor to publications on leadership and talent management, and has spoken on the topic at industry events such as International Consortium for Executive Development Resources (ICEDR) and Society for Industrial Organizational Psychology (SIOP).
Ms. Ort is the co–author of One Page Talent Management: Eliminating Complexity, Adding Value from Harvard Business Press. She also co–authored Talent Pool or Talent Puddle? in the AMA Handbook of Leadership (2010), and has appeared as a blog contributor for Harvard Business Review online. Ms. Ort is currently a senior human resources manager at PepsiCo. She co–developed the One Page Talent Management approach while at Avon Products, where she most recently led the Talent Management area for Avon Products North America. In that role, her responsibilities included performance management, leadership development, and talent planning for over 6000 Associates. She also co–designed many of the talent management practices being used globally at Avon. Her previous experience includes workforce analytics, compensation and HR generalist roles.