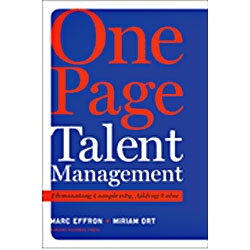 Meet the Authors: Workshops for Leadership, Talent and Human Resource Professionals
One Page Talent Management
07 April, 2011
The Conference Board Conference Center
New York, NY
07 April, 2011 — Workshop I: One Page Talent Management (OPTM) Workshop
(Details are being shown below)

07 April, 2011

This one day workshop is based on the newly released book, One Page Talent Management, by Marc Effron and Miriam Ort. Marc Effron will take you through the One Page Talent Management book highlighting what you need to know to improve and master your Talent Management strategy.
This one day workshop will introduce you to a new radical approach to talent management called the One Page Talent Management (OPTM) Approach.
Based on classic behavioral sciences, OPTM eliminates complexity and adds value to your talent building processes. The seminar will focus on the following three processes for building leaders faster:
A talent planning process that quickly identifies high potentials without complex definitions or assessments
360 feedback that accelerates change in the most critical behaviors
A performance management process that increases motivation and focuses on leaders on the vital few goals
This workshop will focus on specific chapters from the book and will provide talent processes and design guidelines, tips on overcoming objections, and the science behind the recommendations. You will walk away with tools and hear examples from high performing companies. This workshop will help you build an exceptional and talented workforce by teaching you fast, effective and simple practices to use in your organization.
Why you should attend
High performing organizations require people with the right leadership skills to build better teams. The Conference Board has assembled a group of world renown thought leaders to deliver leading edge information and workshop instructions to you in a small group setting. This learning opportunity is unique and seats are limited. Most have heard of their work, read their articles and books and now you have the opportunity to learn their leadership lessons with your peers. What you learn here will benefit you as an individual leader and help you build better teams which in turn will contribute to your organization's overall performance.