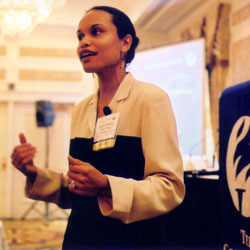 Talent Management Strategies Conference
Innovative, Simple Talent Management Strategies for a Complex World
09 - 10 February, 2011
Waldorf=Astoria
New York, NY
09 - 10 February, 2011 — Talent Management Strategies Conference
(Details are being shown below)

08 February, 2011 — Pre-Conference Seminar: How to Build a Strong Leadership Pipeline at ALL Levels
(Click to display details below)

09 - 10 February, 2011
Read about last year's conference.
Benefits of attending
Join a discussion on how to simplify talent management strategies that address the needs of an increasingly complex, global environment
Learn about innovative, world class talent management approaches that can be customized and scaled to your organization
Discover new talent management tools that can be used in your organization
Network with talent management professionals just like you and build your skills as a talent management practitioner
Who should attend
The conference is a must attend for Human Resources leaders, Talent Management professionals, and those responsible for talent acquisition, employee engagement, succession planning, learning and development, and leadership development.
Agenda
Pre-Conference Seminar, Tuesday, February 8, 2011
How to Build a Strong Leadership Pipeline at ALL Levels
Wednesday, February 9, 2011
Registration and Continental Breakfast 7:45–8:45 am
Welcome and Introductions 8:45–9 am
Jean McNulty, Conference Program Director, The Conference Board
A 9–10 am
Leading in an Increasingly Complex Business Environment
Ray Peloso, Executive Vice President, Consumer Finance - Debt Management, RBS Citizens
Networking and Refreshment Break 10–10:15 am
B 10:15–11:15 am
Translating Talent Strategy into Business Success
Panelists
Scot McCarthy, Director of Workforce Development, CENTRA Health
Ed Colbert, Director of Talent Management, Dow Corning
Networking and Refreshment Break 11:15–11:30 am
C 11:30 am–12:30 pm
Executing Integrated Talent Management Processes
Beth McCarty, Senior Director, HR Business Excellence, Darden Restaurants
Ron Lawrence, Vice President, Organization Development, VF Corporation
Networking Luncheon 12:30–1:30 pm
D 1:30–2:30 pm
The Middle Matters: Leverage Mid-level Leaders to Drive Performance
Speakers
Kris Routch, Executive Consultant, DDI (Development Dimensions International)
William Shepherd, Ph.D., Senior Vice President - Human Resources, Director, Recruitment and Development, Huntington Bancshares Incorporated
Networking and Refreshment Break 2:30–2:45 pm
Concurrent Session E1 2:45–3:45 pm
Engaging the Whole Employee: The Wisdom 2.0 Architecture
Speaker
Rich Fernandez, Ph.D., Global Head of Learning & Organizational Development, eBay Inc.
Concurrent Session E2 2:45–3:45 pm
Succession Management: Filling the Pipeline
Speaker
Bob Brotherton, Director, Succession Management, Lowe's Companies, Inc.
Concurrent Session E3 2:45–3:45 pm
How Social Media and New Ways of Working Impact Talent Management
Speakers
Lane Hopkins, Vice President, Capital One University, Capital One Financial
Vicki Mirandah, Senior Director, HR - Diversity, Capital One Financial
Networking and Refreshment Break 3:45–4 pm
Concurrent Session F1 4–5 pm
Development Actions that Matter for Key Leadership Talent
Speakers
Mark Hamilton, Chief Learning Officer, SPX Corporation
Sheila Pierfelice, Director, Talent Management & Organization Development, SPX Corporation
Concurrent Session F2 4–5 pm
Key Retention Factors for High Performing Talent
Speaker
Suzanne M. Danielle, Director, Talent Management and Leadership Development, Lockheed Martin Corporation
Concurrent Session F3 4–5 pm
Talent Management in a Decentralized Business
Speakers
Audrey Williams-Lee, Senior Director, U.S. Talent Management, McDonald's USA
Denise Broz, Senior Director, Global Talent Management and Leadership Institute, McDonald's Corporation
Networking Reception 5–6:30 pm
Thursday, February 10, 2011
Optional Breakfast Session G 7:30–8:15 am
Building Better Talent, Faster
Speaker
Marc Effron, Author, One Page Talent Management and Founder, New Talent Management Network
Continental Breakfast 7:30–8:15 am
Morning Introductions 8:15–8:30 am
Joanne Loce, Program Director, The Conference Board
H 8:30–9:30 am
Real-World HR Lessons: Recruitment, Engagement and Retention Practices
Tiffany Adams, Executive Sponsor, Strategic Accounts, Kenexa
Keith Wiedenkeller, Senior Vice President & Chief People Officer, AMC Entertainment Inc.
Networking and Refreshment Break 9:30–9:45 am
I 9:45–10:45 am
ROI: Managing Critical Talent Pipelines to Drive Business Growth
Introduction
Lisa Hartley, Director, Corporate Communications, Taleo
Speaker
Shannon Sisler, Vice President, Talent & Diversity, DaVita Inc.
Networking and Refreshment Break 10:45–11 am
J 11 am–12:30 pm
Innovative Talent Management Practices
Speakers
Christine Dolan, Senior Director - Talent Development, Pepsi Beverages Company
Anne Nagy, Vice President, Human Resources Enterprise Talent Management, Nationwide Insurance
Bill Kaplan, CPCM, Working Knowledge CSP
Closing Remarks 12:30 pm
Post-Conference Workshop, Thursday, February 10, 2010
The "Black Box" Approach to Integrated Talent Management
To register for the Talent Management Strategies Conference on March 2-3, 2011 at the Coronado Island Marriott Resort in San Diego, click here.
For speaking and sponsorship opportunities, please contact Denise Sinuk at denise.sinuk@conferenceboard.org.