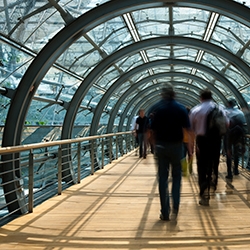 The Conference Board Business Perspectives Briefing
Insights for You and Your Organisation

An exclusive invitation to hear our experts share perspectives on current business trends
The Conference Board Business Perspectives Briefing is a two-hour, high-impact meeting that offers an organisation-wide look at business, from branding to corporate governance, from the latest economic analysis to strategic workforce planning.
These complimentary events bring together business peers across industries and functions in the type of collaborative, enriched environment that has been a hallmark of our organisation for almost a century.
At a typical Business Perspectives Briefing, you'll have the opportunity to gain and share fresh insights into today's business issues through roundtable discussions with our experts and other senior-level executives. You'll also hear about our latest original research across our four knowledge areas: Corporate Leadership; Economies, Markets & Value Creation; High-Performing Organisations; and Human Capital.
You are welcome to attend on your own, with your colleagues, or with network peers.

Who is invited
Mid- to senior-level executives from all industries and functions

Cost
Complimentary

Special note to members of The Conference Board
Member companies of The Conference Board are also invited to host a Business Perspectives Briefing for their colleagues and clients.

Register to attend
To register or to find out more about hosting a Business Perspectives Briefing, contact briefings@conference-board.org